code | landscape | anarchive | sound | image
Soundscapes/Landscapes
By: Medea Electronique (Costas Bokos, Christos Carras, Vassilis Koundouris, Marinos Koutsomichalis, Manolis Manousakis, Tim Ward, Panagiotis Goubouros, Kleopatra Korai, Michael Larsson, Aggeliki Poulou, Alexandros Drymonitis, Vicky Bisbiki)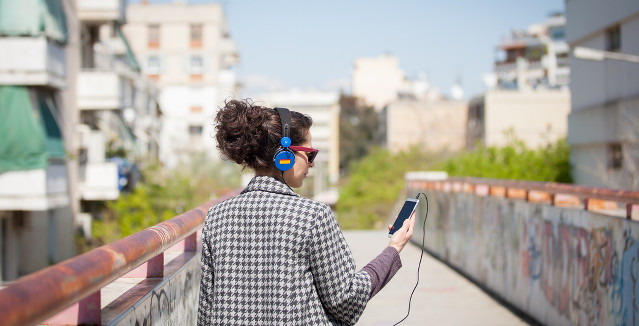 A site-specific collective project revolving around the exploration and the artistic re-interpretation of the Neos Kosmos neighbourhood (Athens, GR)
code | landscape | anarchive | sound | image
Soundscapes/Landscapes
A site-specific collective project revolving around the exploration and the artistic re-interpretation of the Neos Kosmos neighbourhood (Athens, GR)
By: Medea Electronique (Costas Bokos, Christos Carras, Vassilis Koundouris, Marinos Koutsomichalis, Manolis Manousakis, Tim Ward, Panagiotis Goubouros, Kleopatra Korai, Michael Larsson, Aggeliki Poulou, Alexandros Drymonitis, Vicky Bisbiki)
Materials:
Environmental audio/video recordings, interviews, text, audio/video synthesis, narration, bespoke software, smartphones
Extent:
~400ha
Commissioned by:
Onassis Cultural Foundation, Athens GR
Produced by:
Medea Electronique, Athens GR
Produced at:
Studio S19, Athens GR
Medea Electronique's and Solaris mobile studios, Athens GR
Produced in:
2013-4 and 2016-7
Documented by:
Medea Electronique, Kiki Papadopoulou
Guest artists:
John Van Aitken, Jane Brake, Iris Garrelfs, Emilia Izquierdo, Tassos Karadedos, Conor McCafferty, Matilde Meirelles, Evi Nakou, Alfredo Pechuan Roca, Marili Pizarro
Poetry/texts by:
E. Kaknavatos, T. Kiaos, V. Mayakovski, M. Alexandropoulos, M. Papadopoulou, T. Patrikios, A. Poulos, Y. Seferis, Y. Skaribas, Y. Stigas, A. Gramsci, G. Agamben, K. Axelos, St Maximus the confessor, G. Deleuze & F. Guattari, Y. Kyriakidis, V. Novarina, T. Robins, Z. Ainalis, K. Gardikis, T. Kiaos, G. Stigas
Scientific contributions by:
Myrto Dimitropoulou, Giannis Kozatsas, Eugenia Bournova, Elena Patatouka, Haris Tsavdaroglou, Menelaos Charalampidis
Narrations by:
Yannis Evaggelidis, Nadia Deliyannis , Stavros Loukeris, Sara Bislanis, Gregory Patrika Karr, Giorgos Antonopoulos
Other:
Calvium (software development), Beetroot (graphic design), Yannis Lolis (graphic design), Memi Katsoni, (translator), Anna Papaeti (translator)
Drawing on audiovisual material from the various public and private spaces of the Neos Kosmos neighbourhood in Athens, as well as on the very people who live there, their history and their present, a digital rhizome has been created to augment and to transform the area into a hybrid and interactive urban installation. Visitors are invited to explore Neos Kosmos armed with a smartphone running an interactive digital map which will deliver them audio, video, texts and spoken word in real time and with respect to their geographical coordinates and the artists' understanding of the area.
a hybrid interactive urban installation
The project has been extended a few years following its first iteration, further creating a nexus of stories in the city. Artists who work in sound and images explore a new form of digital art-mapping in downtown Athens neighbourhoods and invite us on a real-time stroll through the neighbourhoods of Gazi, Kerameikos and Metaxourgeio (Athens GR). Kerameikos, along with Metaxourgeio, has a special intensity. It has been a living, meaningful space since antiquity that seems to weave and encapsulate the entire course of Athens through time: the cemetery, the train lines, the factory at Gazi, Kerameikos, Iera Odos and its night clubs, the edges of Metaxourgeio, multiculturalism, the development and gentrification of the area, immigrants, artists, night venues and clubs, alternative cultural spaces, tourists, and the Acropolis' rock overlooking the area.
Thence, 'Soundscapes Landscapes / Rhizome ΙΙ' reveals the stories that take place on the city's surface as well as those that are hidden away or underground or in its past. A Virtual Reality/360 mobile application has been also developed in-house by Medea Electronique.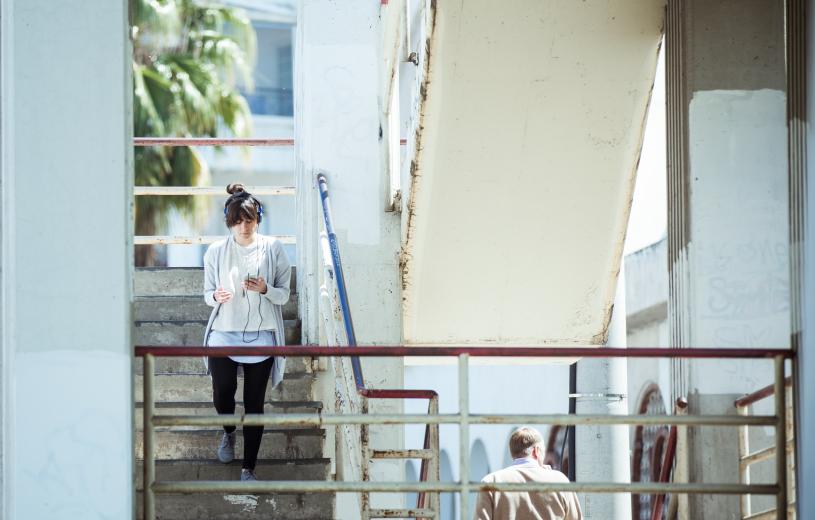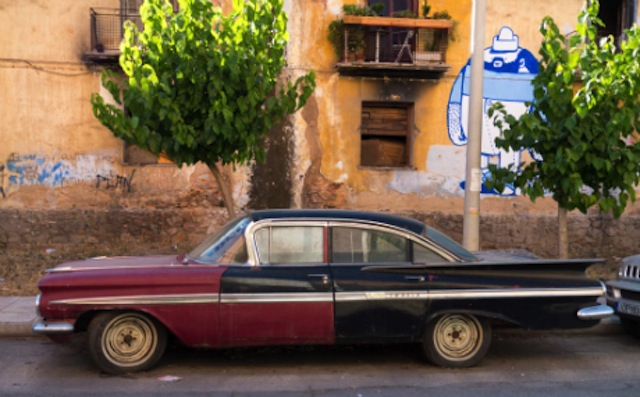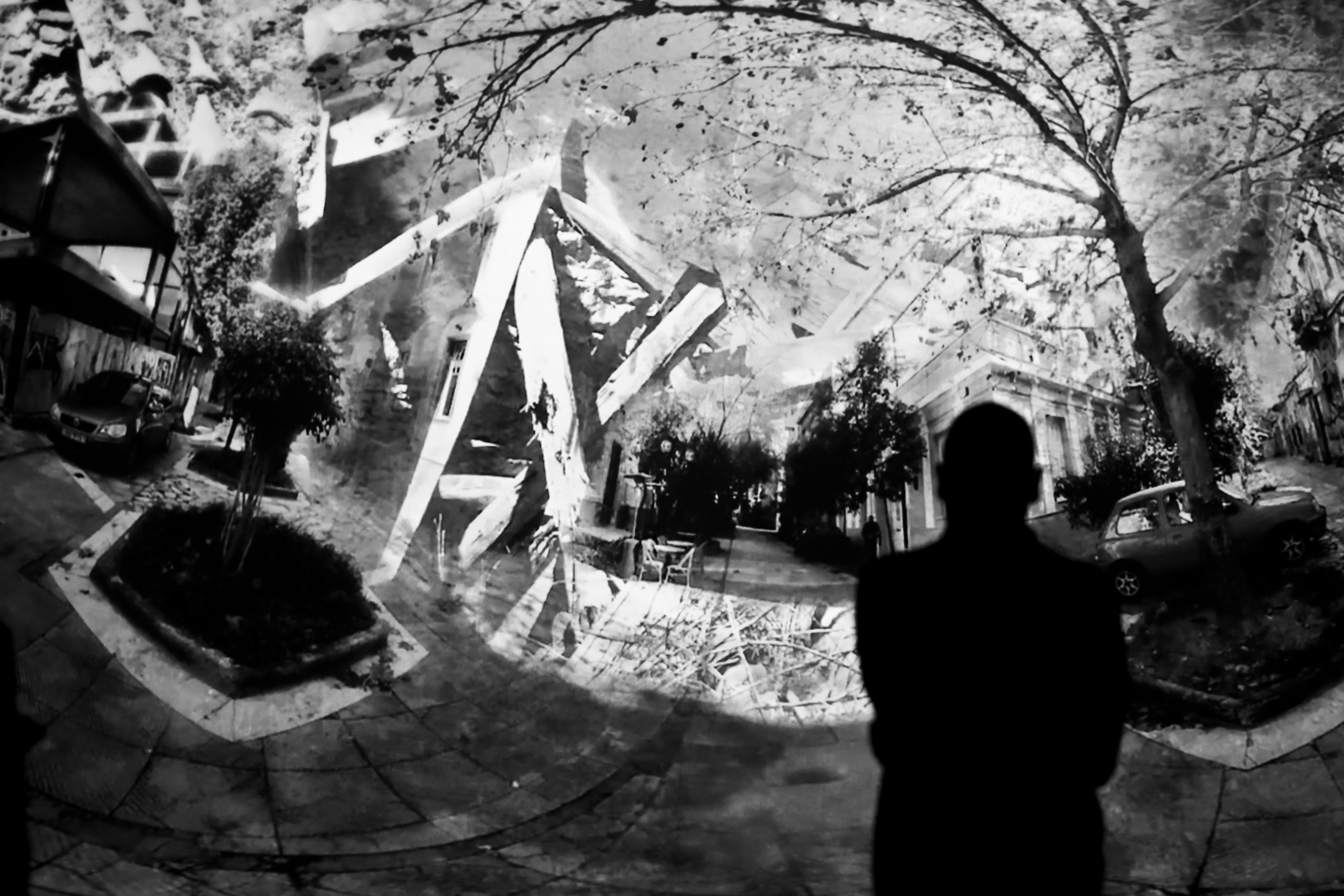 Events
Exhibition, Onassis Cultural Center. Athens, GR. (2017)

Exhibition, Onassis Cultural Center. Athens, GR (2014)